With Valentine's day around the corner it only seems natural to write something about rosé champagne, probably the champagne which we take least seriously in the UK. Usually bought for its pretty colour and often rather tacky association with all things romantic, and not for its merits as a great partner to food and a truly vinous champagne style.
Most rosé champagne is made in a very different way to other rosé wines. It's one of very few appellations to allow blending red wine with white wine. Typically they add around 7-11% red wine in to the blend until the right body, texture and aromatics are integrated into the wine. This type of blending allows the champagne houses to maintain a consistent colour and the consistent 'house style' which is oh-so important in champagne.
One of the things I love about rosé champagne, above other champagne styles, is the huge variety of styles that they offer, from the bold structured style of Bollinger's Grande Anne Rosé to the floral elegant style of Laurent Perrier Rosé and everything else in-between.
Here are some of my favourites:
Something to go with your Lobster
Charles Heidseick Rose Reserve NV
This is a great wine to go with you posh Valentine's dinner. It has beautiful red berry aromatics of strawberry and raspberry and a creamy, silk-like texture on the palate packed with jammy fruits. The red wine in the blend (7%) comes from the great grand cru sites of Ambonnay and Bouzy, giving the blend enough power and intensity stand up to a rich lobster dishes or even lighter game dishes such as Guinea fowl.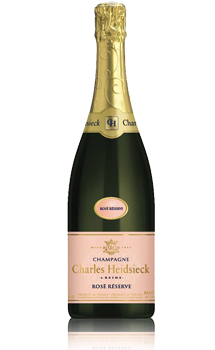 Keep it English
Balfour Brut Ros

é

- £35.99 at Waitrose
This is arguably England's finest sparkling ros
é
(though Nyetimber's Brut Rose and the Gusbourne Estate Rose are fantastic too). It has beautiful stone fruit aromas with peach, nectarine and even a hint of marzipan on the palate. It's a great aperitif and is very easy to get through a whole bottle with your partner.
On Special
Lanson Ros

é

NV - £17.99 at Tesco (usually £35.99)
This is £17.99 at Tesco until the 14th February and that makes it incredibly good value for money. If you are looking for the safety of a brand you know at great price then this is the champagne for you. Like the Lanson Brut NV, this champagne doesn't go through malolactic fermentation and as a result has a racy acidity which is great with smoked salmon blinis and other oily fish dishes. It also has a pure raspberry flavours which would work with sour fruit based desserts like summer fruits and cream.
Splash Out
Bollinger Grande Anne Ros

é

2002 - £85 at Majestic
Quite simply, to my taste, this is the best ros

é

champagne out there and the 2002 is one of my top 5 champagnes of all time. It's made exclusively from Grand (77%) and Premier cru (23%) juice and has around 7-8% red wine from La Cote Aux Enfants added to the blend. It has a pretty salmon pink colour and a forest floor charactor on the nose. It's another full bodied champagne which works great with so many types of food. It is rich enough to stand up to venison with a blackberry jus or an earthy veal and mushroom dish. It also has a lifted fruit-driven finish, which cleanses your palate like no other wine on earth. Go on, treat yourself.